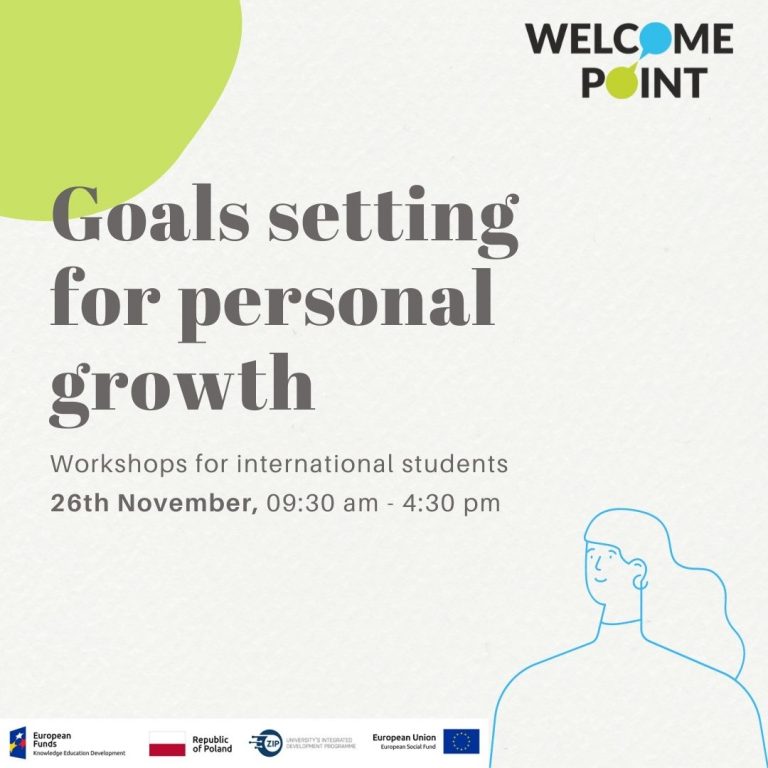 Dear Students,
We would like to invite you to our next workshops for international students: 'Goals setting for personal growth'.
The workshop includes:
Exercises identifying the vision for life/10 years/5 years/one year – Identifying a Whole Life Vision that maps onto a 10 year vision and then maps onto 3 month vision
Choosing Goals to Move Forwards With – Brainstorm their vision and goal ideas. Select meaningful goals that add real value to our lives
The strategies to set goals: Set SMART goals (specific/measurable-action oriented-realistic-timebound) – discover your motivation leverage – be active – be creative – understand your why – know your resources – dealing with obstacles – prioritization – staying focused;
Good tips on goal-setting tips – see procrastination as a gift – understand your WHY – go slow and achieve more – staying on track – believe in you or know what and when to let go;
Getting motivated and choosing a strategy that works for you
Exercises: Setting this year goals – The process of setting 3 specific Annual Goals – from starting out right through to choosing an action to take tomorrow
When?
26th November 2021, 9:30 – 4:30 pm
Workshops hours include a break.
Where?
The Volunteer Centre of the University of Warsaw
address: Dobra 56/66 00-312 Warsaw (University of Warsaw Library Building – BUW)
Who can participate?
– long term students of 2nd and 3rd year of the first cycle (BA),
– long term students of the second cycle (MA),
– long term students of 4th and 5th year of uniform master level studies
To register to the course please fill in the form on our website: https://welcome.uw.edu.pl/goals-setting-for-personal-growth-workshops-for-international-students/
Application deadline: 15th November, 12 pm.
Please also join our FB event:
https://bit.ly/WPgoals
Kind regards,
Welcome Point UW