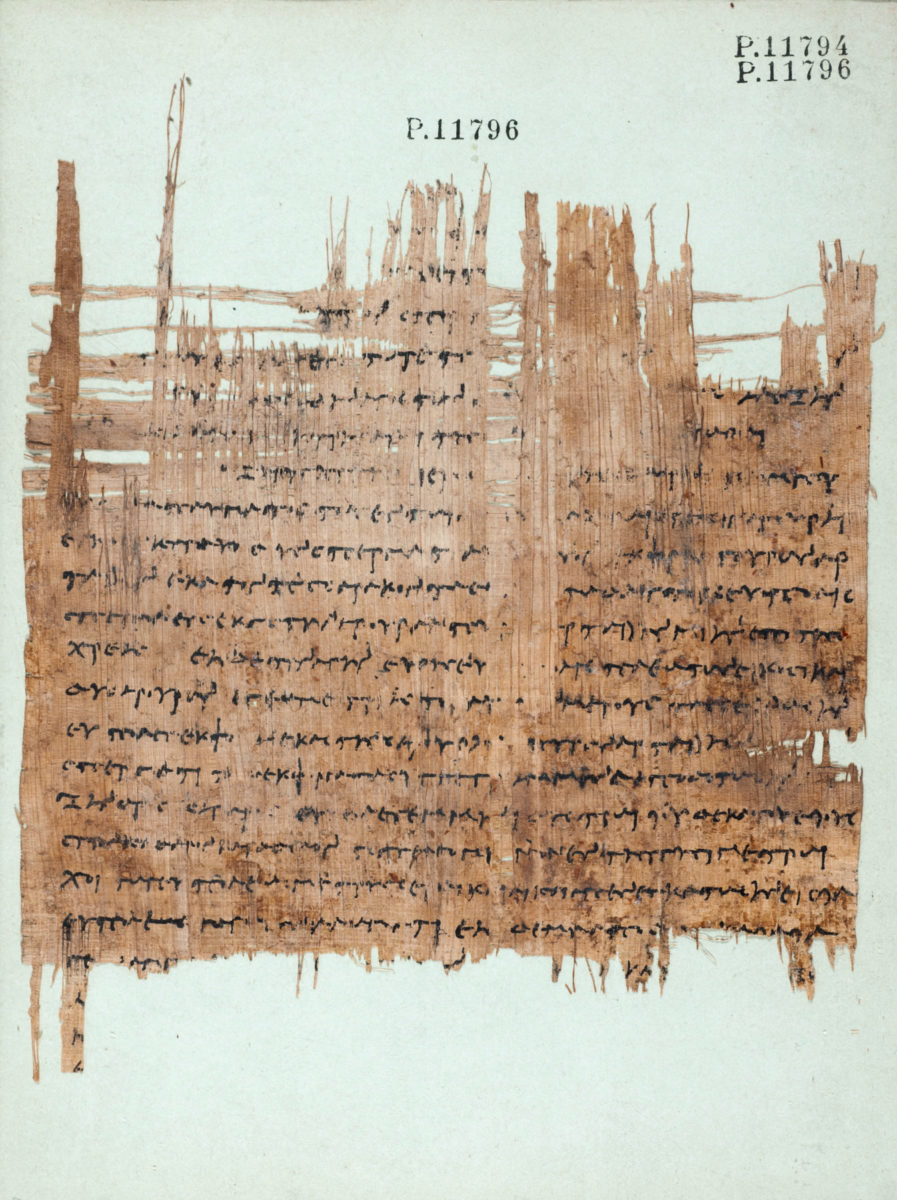 Address:
Department of Papyrology
Institute of Archaeology
Krakowskie Przedmieście 26/28,
00-927 Warszawa
room 3.15
tel. (0048) 22 5522815
e-mail: t.derda@uw.edu.pl
Head of department:
dr hab. Tomasz Derda, prof. UW
Employees:
prof. dr hab. Adam Łajtar
prof. dr hab. Adam Łukaszewicz
dr Grzegorz Ochała
dr Joanna Wegner – członek zespołu w grancie Maestro prof. Wipszyckiej
mgr Tomasz Płóciennik
Collaborators:
Project Monks and Monastic Communities in the Eastern Mediterranean, NCN, Maestro grant no 2015/18/A/HS3/00485.
Principal investigator:
prof. dr hab. Ewa Wipszycka
Team members:
dr Adam Izdebski
mgr Aleksandra Pawlikowska-Gwiazda
dr Przemysław Piwowarczyk
dr Joanna Wegner
dr Marzena Wojtczak
PhD students:
Tomasz Barański
Kamila Braulińska
Joanna Ciesielska
Agata Deptuła
Marzena Ożarek-Szilke
Małgorzata Krawczyk
Andrzej Mirończuk
Aleksandra Pawlikowska-Gwiazda
Bartosz Wojciechowski
About the Department:
Research interests of the employees in the Department of Papyrology are multifarious, but always concentrated on antique and medieval written sources. In our research we deal with papyri, ostraka and inscriptions of various forms and contents, as well as literary texts in four languages: Greek, Latin, Coptic, and Old Nubian. The geographical spread of our interests is also very broad. As papyrologists and epigraphists, we take part in archaeological works on Cyprus, in the Balkans, in North Africa, Near East, and the Nile Valley (Egypt and Sudan).
The Department of Papyrology is the co-publisher of the international periodical The Journal of Juristic Papyrology listed in the Scopus reference database as well as the series of monographs The Journal of Juristic Papyrology Supplement Series.
The Department boasts the largest collection of papyri and ostraka in Poland in Demotic, Greek and Coptic.
Tomasz Derda
A Few Words on Papyrology
As a separate scientific discipline, papyrology came into existence in the late nineteenth century. It was a period when classical studies were undoubtedly the principal branch at universities both in Europe and the US, and knowledge of Latin and Greek was an indispensable element of intellectual formation. The papyri, unearthed chiefly from the sands of Egypt, constituted a new source which enriched significantly the knowledge about various aspects of the ancient past. Thanks to papyrological sources, philologists discovered so far unknown masterpieces of ancient literature; historians of law were able to gain insight into everyday legal practices reflected in preserved contracts and agreements; the papyri, finally, allowed for a completely new look at ancient history. Theodor Mommsen, a historian of antiquity and the only classicist to be awarded Nobel Prize in Literature, is credited with the following saying: 'the nineteenth century has been the century of epigraphy, the twentieth century will be the century of papyrology.' And so it happened: the last one hundred and thirty years have witnessed vigorous development of papyrology, which today is one of the most interesting small disciplines of the humanities. A steady influx of new sources allows for a continued verification of old hypotheses and interpretations. Among the humanities, papyrology is particularly well equipped with digital tools: papyrological databases contain texts of all published documents along with their photographs; as a result, every scholar is able to study virtually any document on a computer screen. An inherent feature of papyrology is its interdisciplinary character – papyrological research requires not only general knowledge of history, but also of the history of literature, law, ancient economy, archaeology, geography, history of technology, etc.
Grants:
Current:
– 2017–2019: Wall Inscriptions in Banganarti Churches. Contribution to the Study of the Society and Culture of Christian Nubia; National Science Centre, grant no. UMO-2016/21/B/HS3/00930; principal investigator: prof. dr  Adam Łajtar
Past:
– 2016–2018: 'What's in a name?' A Study on the Onomastics of Christian Nubia; National Science Centre, grant no. UMO-2015/17/D/HS3/00372; principal investigator: dr Grzegorz Ochała
– 2012–2015: Ancient Written Sources for the History of the Territory of Poland; National Science Centre, grant no. UMO-2011/03/B/HS3/00560; principal investigator: prof. dr hab. Jerzy Kolendo (2012–2014); mgr Tomasz Płóciennik (2014–2015)
– 2012–2014: Chronological Systems of Christian Nubia: Liturgical Calendar and Kings' List; Ministry of Science and Higher Education, grant no. 0392/IP3/2011/71; principal investigator: dr Grzegorz Ochała
– 2009–2015: A Study of Greek and Latin Papyri from Qasr Ibrim from the Augustan Period discovered during the British excavations in the years 1963–1988; National Science Centre; principal investigator: prof. dr Adam Łajtar
Excavations:
The employees of the Department took and/or take part in the works of the following archaeological missions:
– Aleksandria (Egypt)
– Banganarti (Sudan)
– Deir el-Bahari, Hatshepsut temple (Egypt)
– Dendera (Egypt)
– Dongola (Sudan)
– Ghazali (Sudan)
– Hippos (Israel)
– Marea (Egypt)
– Naqlun (Egypt)
– Nea Paphos (Cyprus)
– Novae (Bulgaria)
– Ptolemais (Libya)
– Risan (Montenegro)
– Sheikh Abd el-Gurna, hermitage MMA 1152 (Egypt)
– Tell Atrib (Egypt)
– Valley of the Kings, tomb of Rameses VI (Egypt)