Dear Student,
Congratulations on your admission to the University of Warsaw! We are delighted to welcome you as one of our newly admitted international students and are eager to support you on your exciting academic journey in Poland. That's why we are excited to remind you about the upcoming "Pre-Welcome Days" event organized by Welcome Point UW.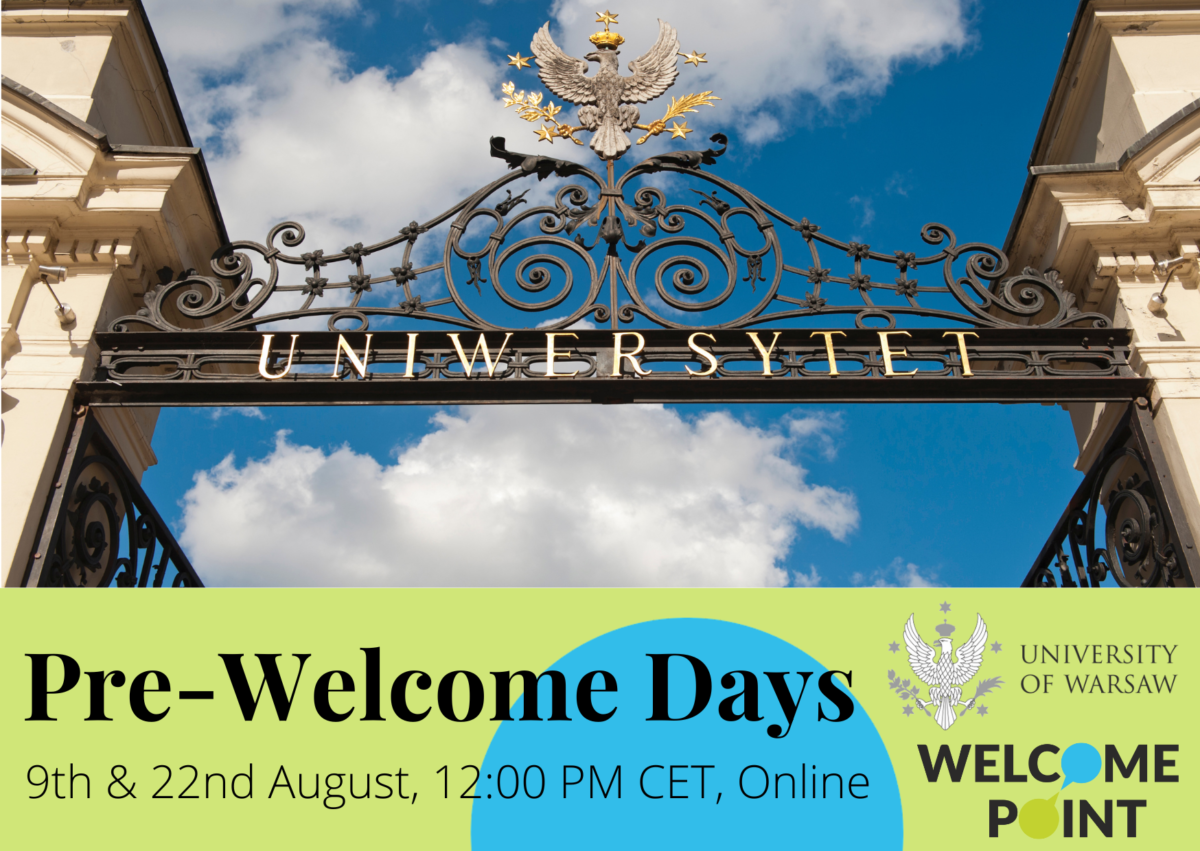 The Pre-Welcome Days have been specifically designed to provide essential information and guidance to international students, like yourself, before you embark on your studies at our esteemed university. These sessions will be held online, allowing you to participate from the comfort of your current location, and will be conducted in English to ensure effective communication for all participants.
Event Details:
– Date: 9th August (already held) and 22nd August (Tuesday)
– Time: 12:00 CET
– Platform: Zoom
Agenda:
During the Pre-Welcome Days, you can expect to receive valuable insights and information on the following key topics:
Preparing for Your Arrival in Poland: We will guide you through the essential steps you need to take before you depart for Poland, including travel arrangements, required documents, and useful tips to ease your transition.
University of Warsaw Dormitories: Get acquainted with the various dormitory options offered by the University of Warsaw and learn how to apply for accommodation, ensuring a comfortable stay during your academic pursuit.
Legalisation of Stay and Visa Issues: Our experts will provide detailed information about the legal requirements and procedures for obtaining the necessary visas, ensuring your legal status during your stay in Poland.
To register for the Pre-Welcome day please use the registration link and select the date that best suits your availability: https://forms.gle/s8VwEv2LCAYYU8ab7
The Zoom link will be sent to the registered participants one day prior to the meeting.
Please keep an eye on your email for further updates of the Pre-Welcome Days.
If you have any questions, feel free to contact the "Welcome Point UW" via the email: welcome.event@uw.edu.pl
Best regards,
Welcome Point Team