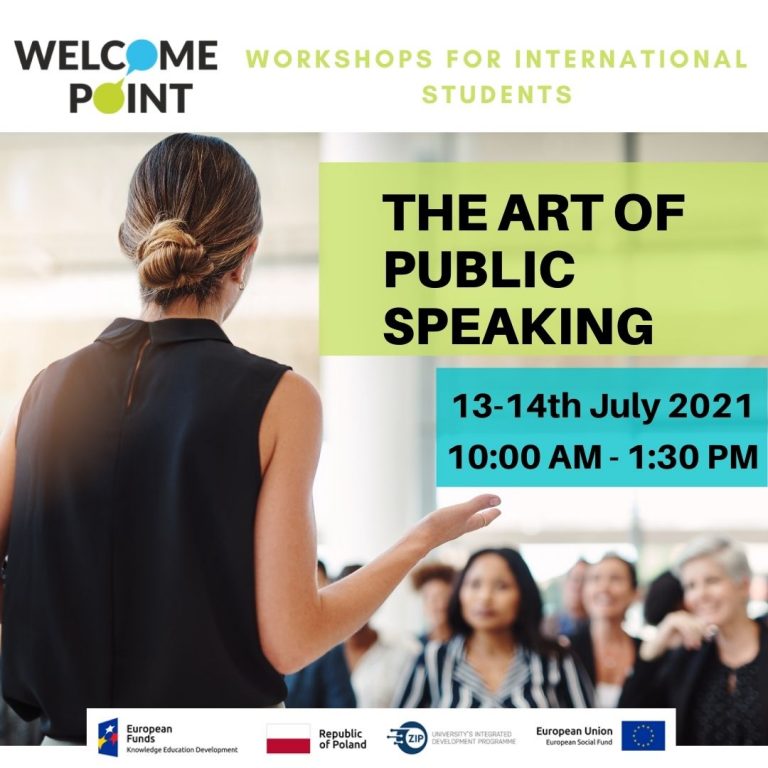 Dear Students,
Welcome Point would like to invite you to our new workshops: 'The art of public speaking': http://welcome.uw.edu.pl/6215-2/
The aim of the workshop is:
getting to know the structure of the presentation,
learning argumentation techniques,
formulating the purpose of the speech,
creating a speech plan,
influencing the audience by using appropriate argumentation techniques,
building audience engagement,
tailoring the message to the audience.
WHEN? 13th-14th July 2021, 10:00 am. – 1:30 pm.
Please note that attendance during two days of workshops is required.
WHERE? If you qualify for the workshop, we will send you a link to the
meeting.
Who can participate?
– 2nd and 3rd year students of first cycle (Bachelor's degree)
– 4th and 5th year students of uniform Master studies
– students of second cycle (Master's degree)
To register to the course please fill in the form: https://forms.gle/nnD3zyCsjqrMXugS9
Application deadline: 4th July (Sunday) 2021, 12 pm.
Please also join our FB event:
https://bit.ly/2U9aRNI
Kind regards,
Welcome Point UW