The Faculty of Archaeology of the University of Warsaw, The Royal Łazienki Museum, and The University of Warsaw Museum kindly invite specialists and young researchers from various disciplines to take part in an interdisciplinary international conference "Echoes of Antiquity" at the University of Warsaw.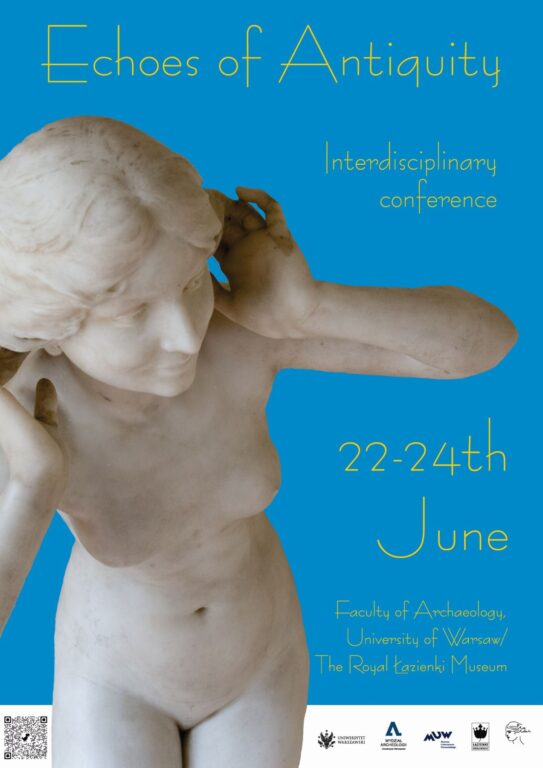 The conference will be held on 22-24th June, if the situation allows, in offline mode. We invite scholars whose research concerns the tradition of ancient art and broad reception of antiquity in disciplines such as archaeology, history, history of art, cultural studies, and literary studies but not limited only to these. The proceedings will be organised in three panels, each of them devoted to a different aspect: collections of plaster casts, reception of Antiquity in city landscape and architecture, and the Antiquity in modern culture. Two days of proceedings will be followed by a tour in Warsaw, focusing on the places with the richest references to the ancient culture. We are also happy to announce that proceedings in every panel will be opened by the keynote speeches delivered by recognized specialists from various institutions. Proposals must be written in English and submitted to conference.echoes@gmail.com by 11th April 2022. Submitted abstracts will be reviewed by the Scientific Committee which will select successful applicants. No fee is required. Further information and abstract template available: (2) Echoes of Antiquity. International interdisciplinary conference | Facebook
Organizational committee: Monika Dunajko (University of Warsaw), Emilia Jastrzębska (Royal Łazienki Museum), Michał Kuźmiński (University of Warsaw).
Echoes of Antiquity conference information