The study programme is designed to give students the best training in the archaeological profession and to provide them with knowledge and skills helpful for a good start in other fields. Our programme encompasses a wide variety of subjects, including general humanities courses as well as science-oriented courses, such as Techniques of Data Acquisition and Processing – important assets on the modern job market.
The study programme places an emphasis on Mediterranean Archaeology and provides the students with background knowledge and practical skills enabling them to take part in archaeological expeditions and explorations all over the world. Excavation training is obligatory during the course of studies, and the Institute of Archaeology offers numerous sites for students to choose from.
Before you start attending the classes, please check whether you submitted all necessary application documents to the Students' Affairs Office. As soon as all the these documents are submitted, you will be able to log in to the USOSweb system with the same login and password as to the IRK (application) system:
Then, you can choose the classes and lectures according to your programme and schedule. Please note that OGUN lectures must be paid for with tokens, which are visible on your account. For any questions concerning the USOSweb system, visit the Welcome Point on the Main Campus
For any questions concerning the BA programme, please contact the Head of Archaeology (Studies in English), Dr. Katarzyna Pyżewicz wa.head.archeology@uw.edu.pl
The programme with ECTS points is presented below. 
During a few last years, the BA programme has evolved, causing some minor changes between required courses between students starting the studies at different times. Below information shows the most recent programme that will be valid for students starting a BA in archaeology since October 2019. Students of previous years will find suitable information on required courses in a printable version depending on the year that they started studying BA in archaeology.
Printable versions of the BA programme for 1st and 2nd year BA (students starting since Oct 2019) NEW PROGRAMME 
Printable versions of the BA programme for 3r year of BA (students starting in Oct 2018) OLD PROGRAMME
Older Programmes are available below:
Printable versions of the BA programme for students starting in Oct 2017
Printable versions of the BA programme for students starting in Oct 2016
NEW BA PROGRAM (active since October 2019)
1st year
2nd year
Photography and Drawing of Artefacts – Obligatory classes, 60 hrs (4 ECTS)
Archaeological Documentation Methods – Obligatory classes, 60 hrs (4 ECTS)
Outline of Archaeology of the Americas –  Lecture, 60 hrs (4 ECTS)
Archaeology of Greece – Lecture, 60 hrs (4 ECTS) and obligatory classes, 60 hrs (5 ECTS)
Archaeology of Rome and the Roman Provinces – Lecture, 60 hrs (4 ECTS) and obligatory classes, 60 hrs (5 ECTS)
Ancient technology: stone, pottery and glass – Obligatory classes, 30 hrs (2 ECTS)
Ancient technology: organic materials – Obligatory classes, 30 hrs (2 ECTS)
Ancient Language (Latin) – Obligatory classes, 60 hrs (4 ECTS)
Modern Language– Classes, 120 hrs (4 ECTS)*
Sports – 60 hrs (0 ECTS)**
Excavations – 150 hrs (9 ECTS)
SUM OF ECTS: 60
* Please check the information provided here
** Please check the information provided here
3rd year
Proseminar I: Egypt and Near East – 60 hrs (6 ECTS)
Proseminar II: Classical archaeology – 60 hrs (6 ECTS)
Introduction to methodology – Obligatory conversatory, 30 hrs (3 ECTS)
Scientific workshop – Obligatory conversatory, 30 hrs (4 ECTS)
Optional classes – Classes selected from the offer, 3 x 30 hrs (3 x 3 ECTS)
OGUN (General Humanities Lecture), 60 hrs (5 ECTS)
Ancient Language (Greek) – Seminar, 60 hrs (4 ECTS)
Modern Language – 120 hrs,  (4 ECTS)*
Modern Language EXAM  – 0 hrs, (2 ECTS)*
Sports– 60 hrs (0 ECTS)**
Fieldwalking surveys – 30 hrs, (1 ECTS)
BA thesis – (16 ECTS)
SUM OF ECTS: 60
* Please check the information provided here
** Please check the information provided here
Annexe to the ordinance No. 64 of the Rector of the University of Warsaw of March 31, 2020, on the fees for educational services for students enrolled in part-time studies or studies in a foreign language and for repeating classes and classes not covered by the study program (translation from Polish):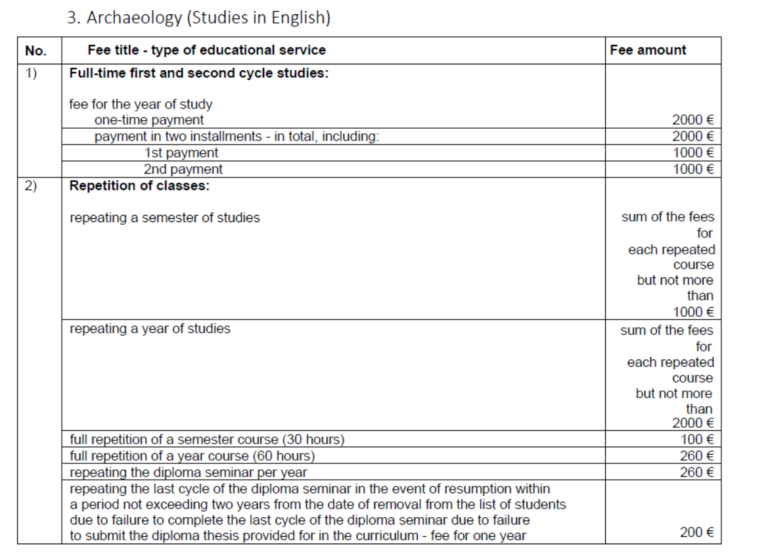 Rector's order and the payment table 2019_2020