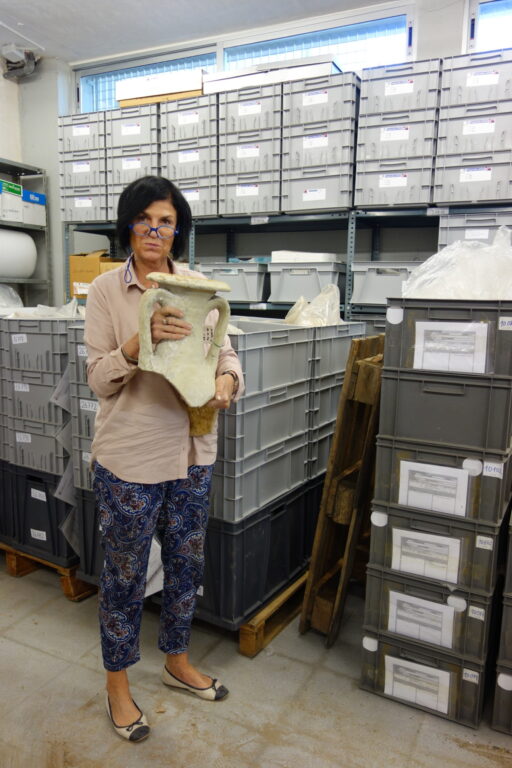 prof. dr hab. Iwona Modrzewska-Pianetti
Department for Underwater Archaeology
e-mail:
iwonamodrzewska@uw.edu.pl
duty hours:
Friday 1 p.m.–2.30 p.m., room 3.18
research interests:
– auxiliary methods in archaeology (geophysics, photointerpretation)
– lychnology
– Roman pottery
– archaeometry in ceramics studies
– ancient trade and amphorae
– material culture
– archaeology of the Upper Adriatic and the Venetian Lagoon
Selected bibliography (also published under the name Iwona Modrzewska)
Department of Underwater Archaeology  Faculty of Archaeology UW:
CV Iwona Modrzewska-Pianetti 2021 eng
ORCID
books:
Iwona Modrzewska, Studio iconologico delle lucerne siro-palestinesi del IV-VII sec. D.C., seria Rivista di Arch. Supplementi  4, ed. Giorgio Bretschneider, Roma 1988.

Iwona Modrzewska, Anfore spagnole nel Veneto. Testimonianze dei contatti commerciali Betica-Venetia, ed. Consiglio Nazionale delle Ricerche, Pisa 1995.

Iwona Modrzewska-Pianetti, Sulla storia della laguna di Venezia nell' Antichita', seria Światowit Supplement Series A: Antiquity, vol IV, ed. Instytut Archeologii Uniwersytetu Warszawskiego, Varsavia 2000.

Iwona Modrzewska-Pianetti, Zarys archeologii Hiszpanii rzymskiej,  IA UW, seria podręczników vol.  VI, Warszawa 2002.

Iwona Modrzewska-Pianetti, Północ Italii przedrzymskiej. Człowiek i środowisko, wyd. Trio, Warszawa  2009. (Academia.edu)

Iwona Modrzewska-Pianetti, J.Molina Gómez (ed.), Contactos comerciales de la región de Murcia (España) con el mundo mediterráneo en la Antigüedad, Varsovia 2019.
selected publications in books:
articles (selected):
wraz z G. Taroni, F. Pianetti, Un anfora della laguna di Venezia, ARCHEOLOGIA E CALCOLATORI  21, 2010 (ed. 2011), str. 201-210.

Iwona Modrzewska-Pianetti, Amphores romaines tardives et la stratigraphie de l' île de San Lorenzo (lagune de Venise). Discussion et nouvelles observations, ÉTUDES ET TRAVAUX  XXIX (PAN), 2016, str. 135-156. (Academia.edu)
Iwona Modrzewska-Pianetti, Les importations d' amphores Dressel 20 en Gaule Cisalpine, ÉTUDES ET TRAVAUX  XXX (PAN), 2017, str. 389-407. (Academia.edu)
reviews (selected):
 Gerión. Revista de Historia Antigua ISSN: 0213-0181 http://dx.doi.org/10.5209/geri.68620 José Remesal Rodríguez (ed.), Colonia Ulpia Traiana (Xanten) y el Mediterráneo. El comercio de los alimentos (=Col·lecció Instrumenta 63. Union Académique Internationale, Corpus International des timbres amphoriques 26), Barcelona, Universitat de Barcelona, 2018, 513 pp. [ISBN: 978-84-9168-197-7]. (Academia.edu)