Person conducting excavation: prof. Bartosz Kontny
Country: Poland
Site name: Lubanowo Lake
Type of the site: ritual place
Involved institutions: Faculty of Archaeology, University of Warsaw; Institute of Archaeology and Ethnology, Polish Academy of Sciences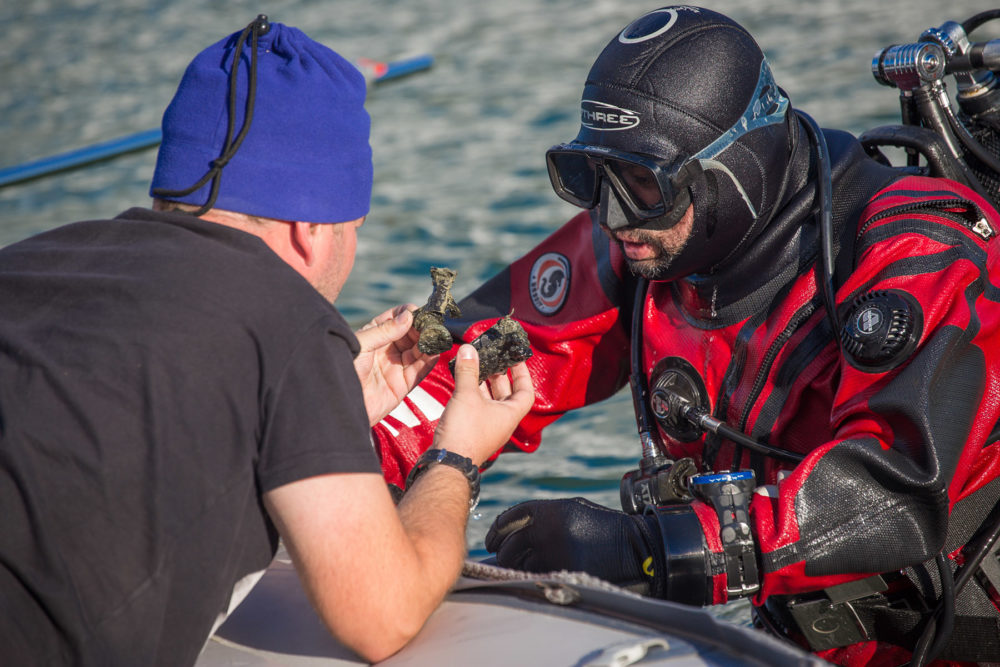 Description of the research:
Since 2014 the team from the University of Warsaw has been conducting an underwater survey in Lake Lubanowo in Western Pomerania. It unveiled traces of a three-millennium-long human activity, including i.a. an Iron Age logboat, a Roman Period war-booty offering, Medieval deposits, a copper cauldron from ca AD 1600, private stamp of a Prussian general from the early nineteenth century. During underwater research weapons, tools, and horse harness elements were found dated mainly to the Roman Period; some of them bear traces of ritual destruction. The parallels to weapons may be pointed out namely in Central Europe and, to some extent, in Scandinavia. The site should be attributed to sacrificial military deposits, known generally from northern Europe, but until recently unknown to the south of the Baltic Sea. Its extraordinary character is manifested by the fact that the site is still in its 'lake stage', not a bog, into which ancient lakes have evolved due to the process of eutrophication. Most probably the site was used by local inhabitants, i.e. the people of the Lubusz group, in the 1st until the early 3rd c. AD but at least some of deposited weapons may be linked to the neighbouring cultural groups. The author presents first conclusions concerning the character of the deposit.
Literature:
B. Kontny, T. Nowakiewicz, A. Rzeszotarska-Nowakiewicz, The Turning Point: preliminary results of underwater research of the former Herrn-See at the vilage of Lubanowo (Western Pomerania, Poland), "Archaeologia Baltica" 23 (2016), 45–57.
Starożytne miejsce ofiarne w jeziorze w Lubanowie na Pomorzu Zachodnim, ed. Tomasz Nowakiewicz, Warszawa: IA UW 2016.