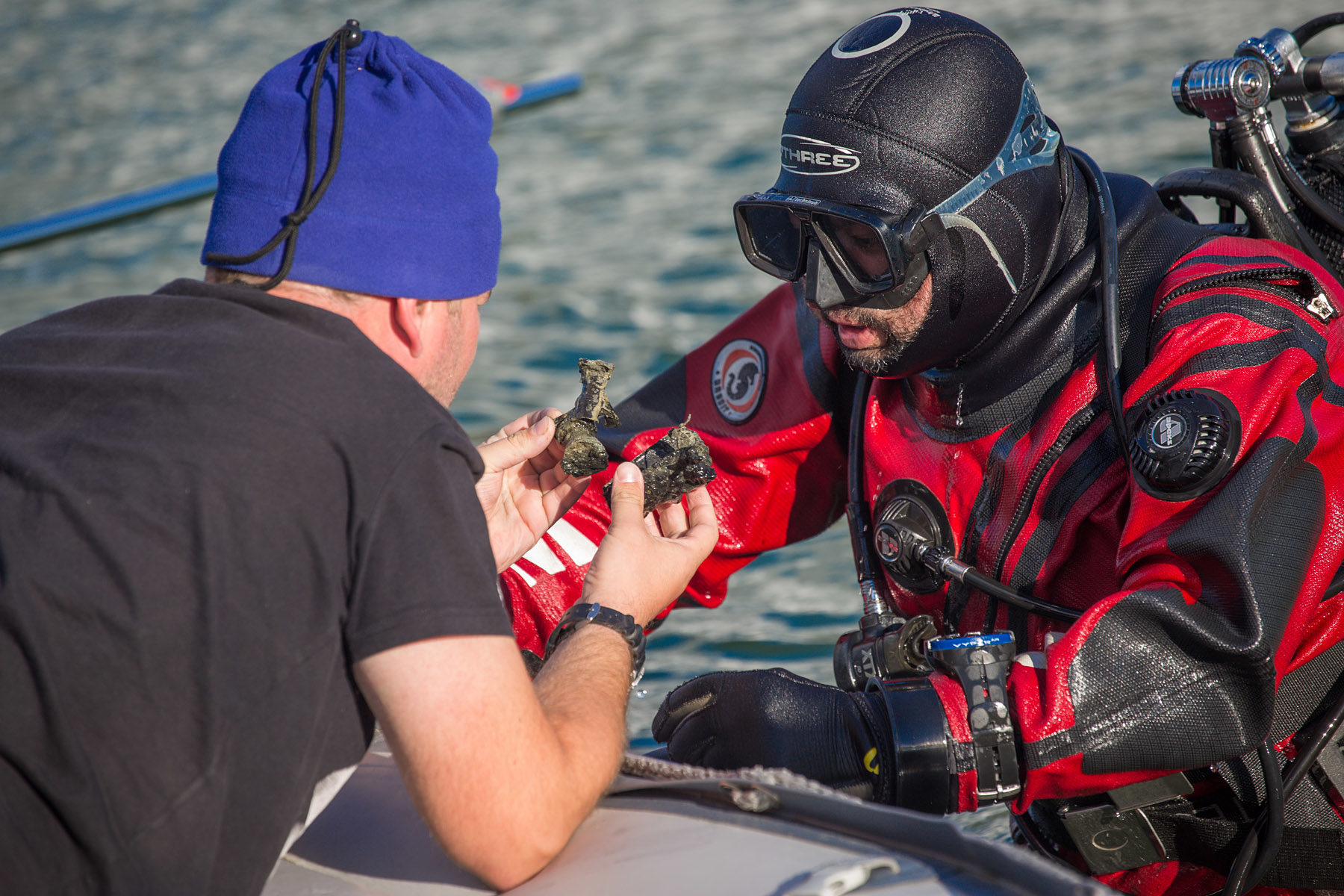 Person conducting excavation: prof. Bartosz Kontny
Country: Poland
Site name: Lubanowo Lake
Type of the site: ritual place
Involved institutions: Institute of Archaeology and Ethnology, Polish Academy of Sciences
Description of the research:
Starting from 2014 the team of scholars (Tomasz Nowakiewicz, Bartosz Kontny, Artur Brzóska, Piotr Prejs) and students from IA UW (initially featuring the Institute of Archaeology and Ethnology, Polish Academy of Sciences with Aleksandra Rzeszotarska-Nowakiewicz) has carried underwater survey in the Lubanowo Lake (former Herrn-See) in Lubanowo village (ex-Liebenow) in Western Pomerania. During underwater research weapons, tools, and horse harness elements (including chain reins) were found. They are dated mainly to the Roman Period but exceptionally also to the Middle Ages. Some items bear traces of ritual destruction. The parallels to Roman Period weapons may be identified namely in the Przeworsk Culture and to some extent also in Scandinavia. The site should be attributed to sacrificial military deposits. Its extraordinary character lays in the fact that, so far, it is the only site of that type which is still in its 'lake stage', i.e. not a marsh or bog. Most probably it was used by local inhabitants, i.e. the peoples of the Lubusz group. As refers to later finds the weapons, tools and pottery from the Early and Late Middle Ages were found; at least part of them may be interpreted as ritual deposits.
Literature:
B. Kontny, T. Nowakiewicz, A. Rzeszotarska-Nowakiewicz, The Turning Point: preliminary results of underwater research of the former Herrn-See at the vilage of Lubanowo (Western Pomerania, Poland), "Archaeologia Baltica" 23 (2016), 45-57.
Starożytne miejsce ofiarne w jeziorze w Lubanowie na Pomorzu Zachodnim, ed. Tomasz Nowakiewicz, Warszawa: IA UW 2016.